Areas of application:
Repairs to existing pipelines and new installation of pipelines for the domestic gas installation conforming to DVGW G 260.  
High temperature-resistant compression fittings of cast malleable iron for steel pipe: Threaded pipe conforming to DIN EN 10255 and DIN EN 10220 series 1.
Typical areas of application: Repairs of gas lines within the house, New installation of gas lines within buildings.
Fluids: 
Gas
Temperatures: 
Gas: –20 bis +60 °C
Type AT

with male thread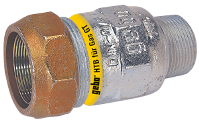 Series 180 21.3 mm – 60.3 mm:
Pressure stages:
Gas PN 5
Tests:
Gas: DIN 3387-1, DVGW-Reg.-Nr.: NG-4502AP1417
Type AFT
with male thread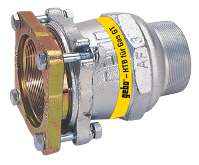 Series 225 76.1 mm – 114.3 mm:
Pressure stages:
Gas PN 1
Tests:
Gas: DIN 3387-1, DVGW-Nr.: NG-4502AP1474
Type AT/AFT is available in the following diameters:
Type IT

with female thread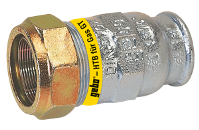 Series 180 21.3 mm – 60.3 mm:
Pressure stages:
Gas PN 5
Tests:
Gas: DIN 3387-1, DVGW-Reg.-Nr.: NG-4502AP1417
Type IFT
with female thread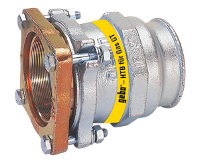 Series 225 76.1 mm – 114.3 mm:
Pressure stages:
Gas PN 1
Tests:
Gas: DIN 3387-1, DVGW-Nr.: NG-4502AP1474
Type IT/IFT is available in the following diameters:
Type OT
for clamping on both sides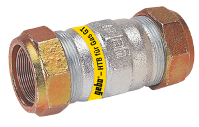 Series 180 21.3 mm – 60.3 mm:
Pressure stages:
Gas PN 5
Tests:
Gas: DIN 3387-1, DVGW-Reg.-Nr.: NG-4502AP1417
Type OFT
for clamping on both sides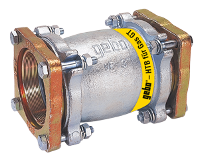 Series 225 76.1 mm – 114.3 mm:
Pressure stages:
Gas PN 1
Tests:
Gas: DIN 3387-1, DVGW-Nr.: NG-4502AP1474
Type OT/OFT is available in the following diameters:

Type TT
outlet with female thread, clamping on both sides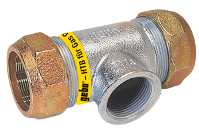 Series 180 21.3 mm – 60.3 mm:
Pressure stages:
Gas PN 5
Tests:
Gas: DIN 3387-1, DVGW-Reg.-Nr.: NG-4502AP1417
Type TFT
outlet with female thread, clamping on both sides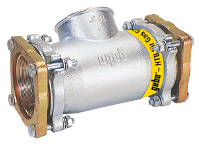 Series 225 76.1 mm – 114.3 mm:
Pressure stages:
Gas PN 1
Tests:
Gas: DIN 3387-1, DVGW-Nr.: NG-4502AP1474
Type TT/TFT is available in the following diameters: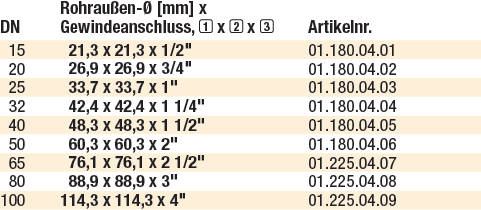 Type ORT
clamping on both sides, reduced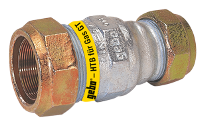 Series 180 33.7 mm – 60.3 mm:
Pressure stages:
Gas PN 5
Tests:
Gas: DIN 3387-1, DVGW-Reg.-Nr.: NG-4502AP1417
Type ORT is available in the following diameters:

Type OLT
clamping on both sides, long version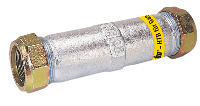 Series 180 21.3 mm – 60.3 mm:
Pressure stages:
Gas PN 5
Tests:
Gas: DIN 3387-1, DVGW-Reg.-Nr.: NG-4502AP1417

Type OLT is available in the following diameters:

Type WOT
elbow, clamping on both sides
Series 180 21.3 mm – 60.3 mm:
Pressure stages:
Gas PN 5
Tests:
Gas: DIN 3387-1, DVGW-Reg.-Nr.: NG-4502AP1417
Type WOT is available in the following diameters:

Type WAT
elbow with male thread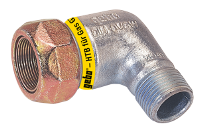 Series 180 33.7 mm – 60.3 mm:
Pressure stages:
Gas PN 5
Tests:
Gas: DIN 3387-1, DVGW-Reg.-Nr.: NG-4502AP1417
Type WAT is available in the following diameters:

Type EKT
End cap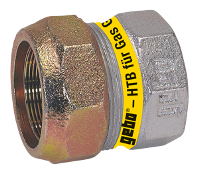 Series 180 21.3 mm – 60.3 mm:
Pressure stages:
Gas PN 5
Tests:
Gas: DIN 3387-1, DVGW-Reg.-Nr.: NG-4502AP1417
Type EKFT
End cap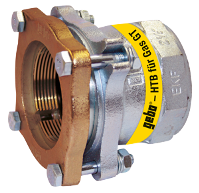 Series 225 76.1 mm – 114.3 mm:
Pressure stages:
Gas PN 1
Tests:
Gas: DIN 3387-1, DVGW-Nr.: NG-4502AP1474
Type EKT/EKFT is available in the following diameters: