Multigebo with male thread
Compression fitting with male thread according to DIN 10226-1 (ISO 7/1) for transition, extension and reduction of Multilayer pipes
Multigebo can be used for:
Repair of drinking water pipes (hot + cold)
Repair of waterbearing heating systems
Installation in walls and floors – observe installation guidelines! Apply corrosion protection and ensure expansion compensation!
Working pressure 10 bars (20 °C) / 6 bars (70 °C)
max. Temperature up to 95 °C
Brass material and gaskets fulfil the newest hygienic requirements for drinking water.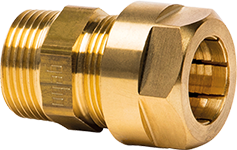 16 mm x 1/2″:
article number: 14.320.00.16KIT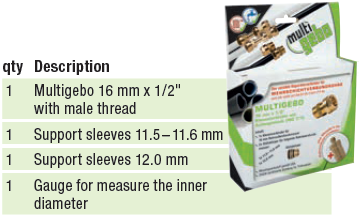 20 mm x 3/4″:
article number: 14.320.00.20KIT