About our Unifix Maxi Box S:

This repair box contains nine different repair clamps (all in 200 mm installation length) for various pipes from DN 50 to DN 150. The following table indicates which types of pipe are covered by which sizes of sealing clamp.
Caution: The nine stainless steel clamps are not intended to be combined. So every sealing clamp is by itself!
Suitable for:
Steel pipe,
Cast iron pipe,
Ductile cast iron pipe,
Fibre cement pipe
Cold water area:
PE pipe and
PVC pipe
Pressure stages:

Seal:
Stainless steel sealing clamps with EDPM seal for water or NBR seal for gas
Maxi Box S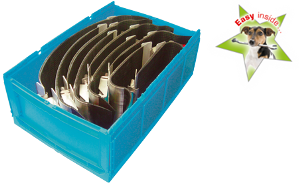 Item no.: 50.03.20.1 (with NBR seal)
Item no.: 51.03.20.1 (with EPDM seal)